This fall may not look quite the same as in past years, but here are some fun things you can do to welcome in the cooler weather
Fall might be off-season in the Hamptons, but don't underestimate the magic of experiencing the Hamptons during the off-season. With cooler weather, fall colors, and minimal crowds, fall in the Hamptons is an experience you don't want to miss. We've pulled together some festive fall events for you and your family to enjoy. From corn mazes to apple picking, these events will help you and your loved ones create some unforgettable memories.
Take Part in a Special Night at the Parrish Art Museum
Located in Water Mill, the
Parrish Art Museum
is the go-to place for those who love and appreciate art. Here, you can marvel at the 15 exhibitions put on each year and their world-class collection of more than 3,000 pieces of art. The Parrish is also known for its public programs, producing approximately 100 every year. Now that fall is here, they've transitioned some of their programs to join the fall festivities. Take part in the Art of the Brew Event—a glamorous night consisting of Long Island beers, ciders, hors d'oeuvres, and the chance to explore the museum in a more intimate and relaxed atmosphere. This event sells out quickly so be sure to reserve your tickets in advance!
Experience Spooky Season at Rogers Mansion
If you've ever wanted to be a ghost hunter, then we've got the perfect place for you! During October, the Southampton History Museum's Rogers Museum transforms into a spooky experience. Here, you can explore exhibits and learn about the fascinating history of this mansion, which has been around since 1648.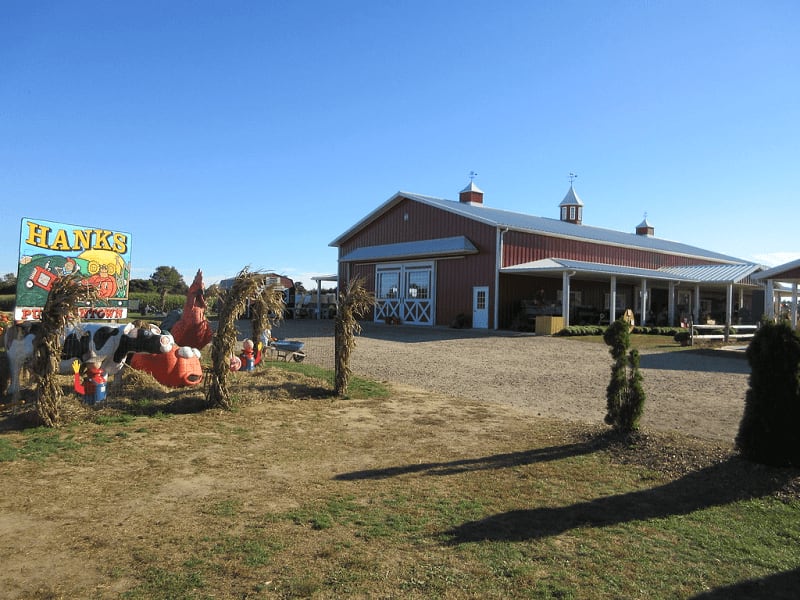 Hank's Pumpkintown in Water Mill
Located in Water Mill,
Hank's Pumpkintown
is the epitome of fall activities in the Hamptons. Your whole family can enjoy a plethora of fall events: pumpkin picking, apple picking, corn mazes, tractor train rides, games, and playgrounds. Stop by the market and indulge in freshly-baked pies, candy apples, cookies, and cider donuts. These delicious treats are sure to satisfy your sweet tooth! If you prefer something savory, head over to the Corn Shed and try their roasted corn. Open daily from 9:30 AM to 6 PM, this fun and interactive fall experience is a fantastic day event for you and your family. After selecting the perfect pumpkins, craving them is another great way to enjoy some family fun together.
Swing by Fairview Farm
2020 is a special year for
Fairview Farm
—it marks the 20th anniversary since their very first corn maze! This family-owned and operated business has become a staple of the community over the past two decades. They are most well-known for their farm stand. Here, you can pick up some up the freshest and best produce in the area as well as pies, herbs, fresh flowers, eggs, and meat. Fall is a particularly special time at Fairview Farms. During the weekends, you can explore an eight-acre corn maze. If you have gone in the past, don't worry! Each year the design, theme, and layout of this expansive corn maze change. Every year brings some exciting new twists and turns. So whether you're craving a homemade apple pie, need to pick up some produce, or are up for an adventure exploring the corn maze, this local farm in Bridgehampton guarantees a good time.
Candlelight Fridays at Wolffer Estate
Stopping by
Wolffer Estate
during any time of the year guarantees a memorable experience— but fall is a particularly special time at this vineyard. Candlelight Fridays are the perfect way to celebrate a special occasion or elevate your date night. The tasting room at Wolffer reflects a quaint Old World feel, offering stunning views of the luscious vineyards. During Candlelight Fridays, you can soak up this romantic, candle-lit atmosphere while enjoying some of the finest Long Island wines and live music. From high-quality wines to unmatched customer service to a rustic and cozy setting, Candlelight Fridays are sure to impress.
Explore Montauk Lighthouse
The East Coast is known for its quintessential lighthouses and Montauk Lighthouse is among the best of the best. This world-famous lighthouse was built in 1792 and is the second oldest lighthouse in New York State. Authorized to be built by the Second Congress under George Washington, in 2012, it was officially designated a National Historic Landmark. To this day, it still helps navigate ships to land. At the top of the lighthouse, you can marvel at stunning 360-degree views of Block Island South, the Atlantic Ocean, and the rocky coastline. Learn more about the fascinating history of the lighthouse at the museum or stop by and pick up a little something from the gift shop. As one of the most popular tourist attractions in the area, be sure to reserve your tickets in advance.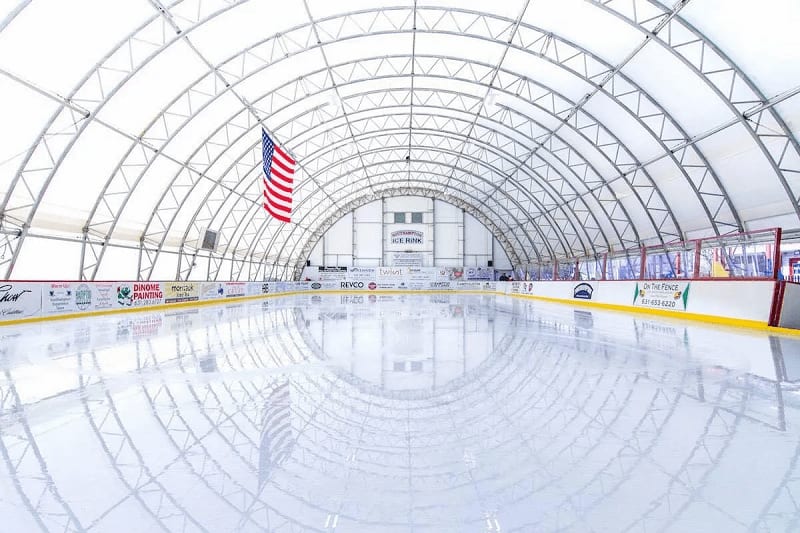 Credit: Southampton Ice Rink
Get Adventurous at Southampton Ice Rink
If you're up for an adventure, why not head over to
Southampton Ice Rink
for a fun day out? Whether you're an experienced veteran or a rookie, ice skating is a great fall activity—and you'll be sure to make a lot of memories in the process! This fall activity is also a great form of exercise. By the end of the day, you'll be working up a sweat. Talk about a win-win!
Warm Up at Sant Ambroeus
Nothing says the weather is changing more than a delicious and piping hot mug of hot chocolate. After you're worn out from ice skating at Southampton Ice Rink, pop on over to
Sant Ambroeus
and grab a delicious pastry or hot drink to warm you up. This classic Italian eatery has been serving elegant dishes, espresso, and gelato since first opening its doors in 1992. The light and airy atmosphere of this Southampton spot will make you feel at home in no time.
Enjoy Brunch at Nick & Toni's
Opened in 1988,
Nick & Toni's
is well-loved by locals and visitors alike—and it's not hard to understand why. This East Hampton eatery is passionate about serving mouthwatering and seasonally-inspired dishes. With a delightfully charming environment and friendly staff, Nick & Toni's is an iconic Hamptons institution. Whether you're celebrating a special occasion or going out on a regular Thursday night, this popular spot is sure to satisfy your cravings. For dessert, be sure to try their strawberry upside-down cake or Nick & Toni's tartufo for two. No matter what you decide to get, you won't be disappointed.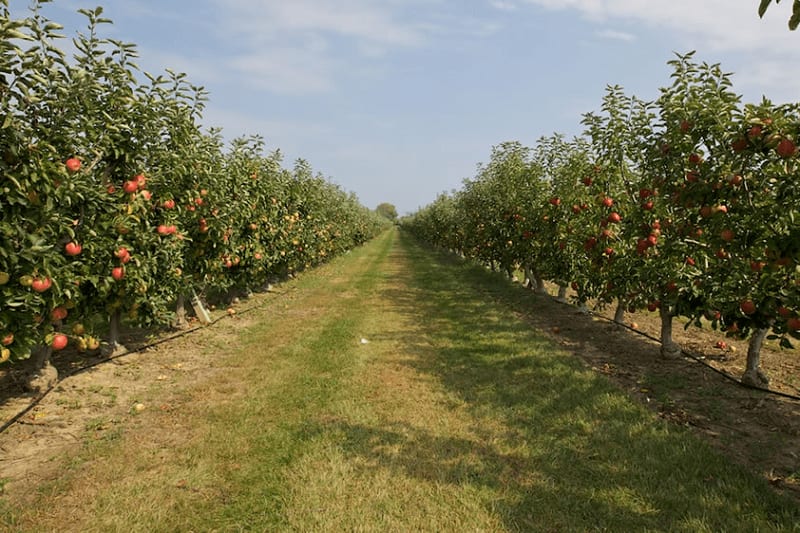 Credit: Milk Pail
Go Apple Picking at Milk Pail
It's hard to get more into the festivities of fall than with apple picking. Lucky for you, there are a plethora of options in the Hamptons when it comes to this popular fall tradition! Located in Water Mill,
Milk Pail
prides themselves on being the Hampton's freshest market. Having been around since 1969, Milk Pail knows a thing or two when it comes to growing apples. With their apple fields now open and in full swing, you and your family can stop by and get to picking! After picking your fill of apples, why not continue the fun and try your hand at making an
apple pie
from scratch? With a scoop of ice cream on top (is there any other way?) this mouthwatering combo is impossible to top.
Visit Windmills
The East End of Long Island is home to 11 historic, wooden windmills. Built between 1788 and 1820, these windmills come with an old and fascinating history. Since watermills were not conducive to the region's flat terrain, windmills were used to produce energy. If you're someone who enjoys learning about history and spending time outdoors, why not spend a crisp fall day exploring these Long Island windmills? Stop by and check out
Hook Windmill
in East Hampton or snap photos of the
Corwith Windmill
—the smallest and second-oldest of the original 11. While you're enjoying a crisp fall day outside, be sure to soak up the stunning fall colors that make up the Hamptons.
Spend the Day at Flying Point Beach
With the summer crowds now gone, the fall months are a great time to take advantage of the beach. Located in Water Mill,
Flying Point Beach
gives you all the picturesque scenic ocean views. With pristine white sand and an abundance of local shops and dining options nearby, you'll be sure to have a great time here. The water might be a bit too chilly to swim in, but don't let that stop you from soaking up some incredible sunrise or sunset views.
If you're looking to explore Hampton Bays real estate,
contact Matthew Breitenbach
. As one of the most sought-after real estate agents in the area, Matthew serves a wide range of communities. His expertise and dedication to client satisfaction will guide you through the homebuying process.
*Header Image: Curbed Hamptons