From DIY projects to large-scale demo days
First impressions are often the ones that last the longest, which is why your home's curb appeal can have a drastic effect on how it performs on the market. For sellers, boosting curb appeal is one of the easiest ways to garner more interest from potential buyers. However, homeowners with no intention to uproot can also follow these simple steps to amp up your Hamptons home's curb appeal. Here are fifteen tips to add a little pizzazz to your porch step.
Update Your Exterior Paint Color
If it sounds simple, that's because it is. One surefire way to spruce up your home's exterior is with a fresh coat of paint. There are countless attractive
color combinations
to consider, and refreshing any chipped or worn paint is an easy, cost-effective way to revitalize your home. If repainting your entire house sounds intimidating, consider updating a few key pieces. A new color on your garage doors, a fresh stain on wood columns or trim, and a new front door color can transform your home's look.
Add Perennials to Your Flower Bed
While sprucing up your garden with vibrant annual flowers is still a fantastic way to instantly amplify your home's curb appeal, adding perennials is an excellent way to keep your garden looking fresh year after year. Hostas, daylilies, and phlox are a few low-maintenance perennials that will make your front lawn pop, and potential buyers will appreciate the small amount of necessary upkeep.
Shine Your Windows
Clean, streak-free windows are a tell-tale sign of a well-kept home. Window maintenance protects the home's energy efficiency and prevents pests from entering, so having properly sealed windows is ideal. Homes with drawn shutters often look closed off and reclusive rather than open and inviting, which could deter some potential buyers. Likewise, mismatched window treatments and drapes can give the exterior a dissonant appearance. Instead, take down window dressings that don't match and coordinate your front-facing rooms so that the house appears cohesively-styled from the outside. If your home's window panes have endured many hard seasons, it might be time to replace the pitted glass. Bright, sunny rooms are attractive to buyers, so cleaning the outside of the windows, coordinating the window treatments, and replacing any time-worn panes will greatly benefit the appeal of your home's interior and exterior.
Replace Exterior Hardware
When was the last time you thought about the numbers on your mailbox or the knocker on your front door? These minute details all impact your home's overall curb appeal. Avoid mixing and matching metals and styles in your hardware to create a seamless, chic design. Whether you opt for an oiled bronze look or something sleek and modern like brushed nickel, updating your home's hardware is a simple fix with a big impact.
Add Symmetrical Visuals
Symmetry is naturally pleasing to the eye, so when you revamp your front yard, consider utilizing symmetrical aspects. Adding sidelights to both ends of the doorway is a great way to begin your home's journey toward symmetry. Window shutters are also inherently symmetrical and can elevate your home's facade with ease. Potted plants, chairs, and columns are excellent ways to frame your doorway to create pleasing symmetry that will make your home look effortlessly polished.
Install Outdoor Lighting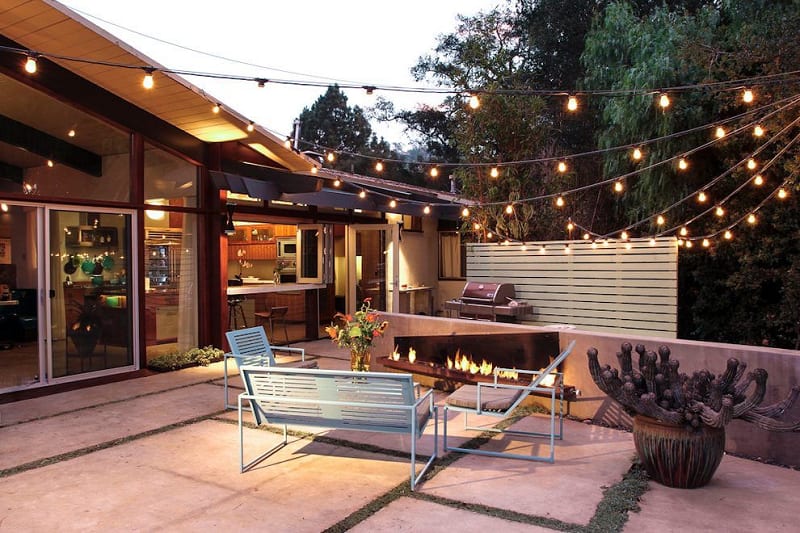 Credit: infosofa.com
A well-lit front lawn immediately creates a glamorous ambiance. Use uplighting to highlight unique architectural details, add walkway lighting to create safe and usable paths during all hours, and silhouette prominent landscape features with ground lights. Additionally, a lawn with ample lighting acts as a safety feature, deterring unwanted guests—
motion-sensor lights
are a popular choice for security lighting. Go green with solar fixtures that will cut down on your energy bill.
Dress Up Your Porch
Porch seating creates a lived-in look that appeals to buyers and, in the meantime, is also extraordinarily practical. The porch is often one of the first things visitors notice, so utilizing furniture to create a warm, welcoming entrance can largely impact how inviting the house feels overall. Potted plants and greenery are excellent, elegant touches that will uplift outdoor spaces. For a more constructive project, add new railings to completely change your porch's design.
Refresh Your Walkway
Gone are the days of scattered stepping stones. A walkway to your entrance should complement the architectural style of your home. There are a plethora of materials to choose from, and whether you opt for stained concrete or whitewashed brick pavers, an updated walkway is a must for boosting your home's outward appearance. If there is no formal walkway to your front door, now is the time to design one. Creating a grand entrance can transform your home's curb appeal, turning something shabby and easily overlooked into a bold statement in the neighborhood.
Embrace the Power of Pressure Washing
One of the quickest (and most powerful) ways to eliminate built-up grime and dirt is by using a pressure washer. This tool can be used on many surfaces, including vinyl siding, concrete driveways and porches, and even windows.
Introduce Unexpected Hardscaping Elements
In tandem with softscaping—that is, the traditional horticultural elements of your lawn—hardscaping can shape an outdoor space. A winding walkway is a familiar form of hardscaping, but it's certainly not the only way to boost your home's curb appeal. Extend the patio to create a large gathering space out front that's perfect for the holiday season or add a border to your sidewalk to create a clear division between the lawn and the pathway.
Polish Your Front Door Finishes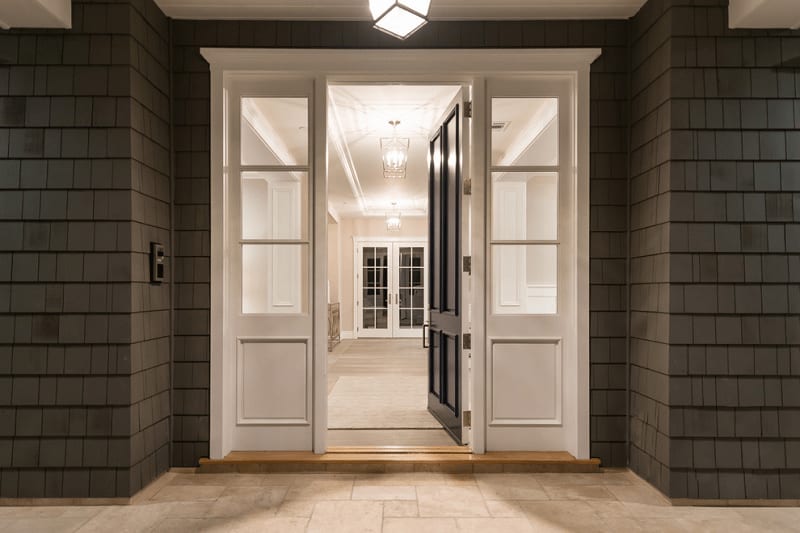 Credit: Houzz
The color you choose for your front door says a lot about the home inside. Do you choose a bright, sunny yellow? A sophisticated slate gray? Maybe French blue? Updating the paint color on your front door is an excellent way to breathe new life into your entrance. Adding a delicate wreath is also an option for homeowners hoping to dress up their front door with something a little extra. Make sure to also clean off any scuffs and wipe down the glass! If you have the time and budget, consider replacing your front door with an extra-wide entryway. Double-paned French doors are a popular choice for creating an open, airy threshold.
Address the Roof
Look up. The roof is one of your home's most important assets, and if it hasn't been well-maintained, buyers will notice. Start by cleaning out the gutters to make sure none of the drain pipes have been clogged. Then, you'll need to address any issues the roof might have and make appropriate repairs to ensure your home's insulation and weatherproofing. If it's time to replace the roof, introduce a complementary color to your home's pre-existing palette for optimal design cohesion.
Declutter the Yard
With a busy household, sometimes things can get overlooked—toys might end up strewn across the lawn, the hose might get left unreeled, or newspapers might pile up by the mailbox. Tidying up can be as simple as sweeping off the driveway, picking up forgotten toys, or emptying the mailbox. Eliminating unnecessary yard decor such as figurines or garden gnomes can give the yard a more streamlined appearance. This simple, quick fix has a massive impact on the overall look and feel of your yard.
Keep It Neutral
Credit: House Beautiful
Everybody's design tastes are a little bit different. If you're polishing up your home's curb appeal before putting it on the market, utilizing a neutral palette can create an aesthetically pleasing front facade that appeals to the masses, whereas bold swatches of color can intimidate some buyers. Keep it simple with earthy taupes, eggshell whites, and clean beige for a crisp look. If you crave a pop of color, don't fret! You can still accent neutral tones with vibrant hues in clever, proportioned ways. For a low stake but high impact highlight, paint your home's trim in a complementary color. Add a bright, patterned throw pillow to your wicker porch love seat, or paint your front door seafoam green for emphasis. However, refrain from dousing your house in technicolor. The Pantone Color of the Year 2020,
Classic Blue
, is an excellent option for a vibrant yet not overstimulating color that makes an excellent porch accent color.
Primp and Prune the Garden
Even if you don't have a green thumb, maintaining a polished low-maintenance garden is the perfect way to accent your home. By uprooting dead plants or pesky weeds, you can declutter your outdoor space. Adding a layer of mulch is a simple fix that does some serious heavy lifting. Mulch retains soil moisture, protects the soil from winter frost, and suppresses the growth of unruly weeds all while looking clean and attractive to passersby.
Whether you revamp your flower bed or spruce up your paint, one thing remains true: Hamptons Bay real estate is an incredible place to call home. If you're interested in owning a home in the Hamptons,
contact me
today for more information. I'd be happy to find New York homes for sale that you'll love.