Take control of your home's security with today's standout technology
For many homeowners, protecting their single most valuable investment is their number one priority. From remote monitoring cameras to motion detectors and anti-theft deterrents, a lot of today's technology gives DIY homeowners control over their home security.
But which devices and technology are the best at protecting your home? And how do you figure out the right combination of home security? Considering the vast array of (sometimes confusing) options, it's easiest to break down home security tech into two areas—home security systems and home security gadgets.
The former is fully realized security systems, including DIY or professionally-installed varieties. Gadgets are just that—add-on devices for those seeking additional elements of security and peace of mind.
With this understanding, let's take a look at the best tech for home security, including five high-level full home security systems and seven individual gadget solutions encompassing 15 different devices.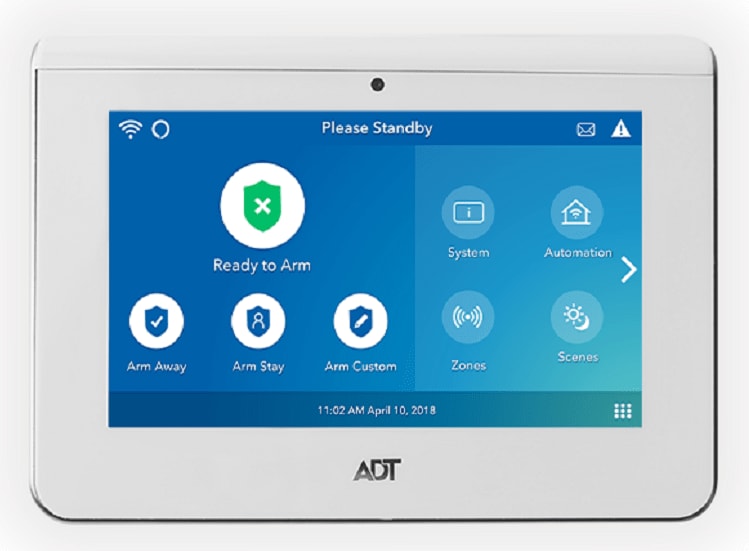 Credit : ADT
Home Security Systems
When considering home security, it comes as little surprise that most homeowners gravitate towards all-in-one systems. With features including advanced sensors, HD video recording, sirens and alerts, smart assistant integration with Alexa, Google, or HomeKit, remote or self-monitoring, and add-ons such as video doorbells and smart locks, whole-home security is most often where you'll find the best, most advanced home security tech—regardless of whether you have it installed or travel the do-it-yourself route.


ADT
Arguably the most widely-known name in home security,
ADT
, has kept up with current trends by offering high-tech options with professional installation or a DIY approach. While the professional version requires a free customizable quote to fit your needs and 24/7 monitoring, the DIY option lets you build your own security system and choose between professional or self-monitoring.
Nest Secure
For the ultimate DIY experience (and those who've bought into the Google ecosystem),
Google's Nest Secure
offers smart, easy-to-set-up, and easier-to-use home security tech. The system includes a Nest Guard alarm, a keypad, motion sensor (with Google Assistant), Nest Detect door and window sensors, and Nest Tag to arm and disarm your system without punching in a code. You can also choose to include the outdoor Nest Cam or other accessories and control it all from your smartphone. If you want 24/7 monitoring, it's backed by Brinks Home Security.
Simplisafe
If ADT is the legacy name in home security systems, then
SimpliSafe
is the modern-day upstart—a high-end, yet accessible and inexpensive full home security system that is as simple as it is effective. Perfect for tech-savvy homeowners who prefer DIY setups, SimpliSafe also offers professional installation along with 24/7 monitoring services. You can choose from prepackaged options—from a four-piece starter set to the 14-piece large home version—or build your own personalized system with add-ons such as smart locks and video doorbells.
Ring
For a truly à la carte approach to your DIY security system,
Ring
, long a purveyor of top video doorbells, has a comprehensive and straightforward system that grows as your needs, house, and family does. Kits range in size from five pieces to 14 pieces, but Ring takes their tech a few steps further. Many of their components have multiple styles and versions. For example, they offer 11 different video doorbells, including those with solar chargers, several different smoke and CO listeners, flood and freeze sensors, optional smart exterior and landscape lighting, and options to power it all with solar charging panels.
Vivint
It's by no means cheap—starter kits are more than $600 while a basic system easily runs over $1,000. That's all before the monthly $40 to $50 monitoring fees. But
Vivint
is ideal for those who want high-end, top-level home security with none of the fuss. Handling every last detail for its clients, Vivint offers 24/7 monitoring, free equipment replacement, and free professional installation. Bonus features include smart locks, doorbell cameras, garage door control, and 24/7 video recording. If you eschew DIY, this is the home security system for you.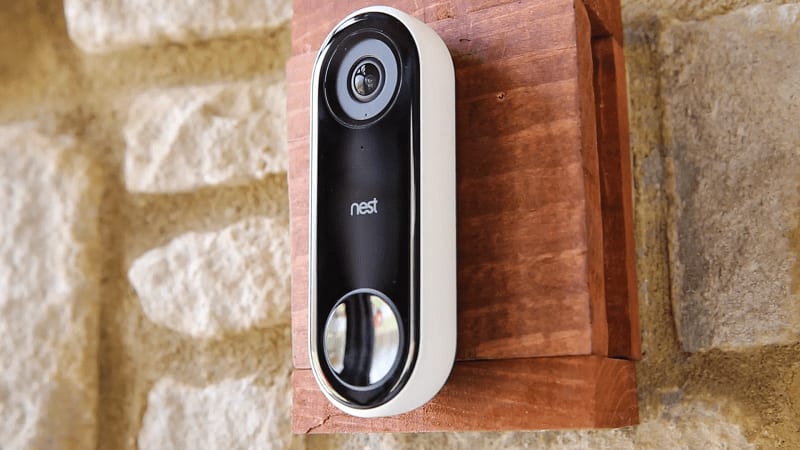 Credit: Cnet
Home Security Gadgets
When it comes to home security, even small devices make a huge difference in keeping your home and family safe. The items detailed below are mostly stand-alone solutions, aimed at addressing singular concerns. They're ideal for technophobes who might want to ease into automated home security. Conversely, they also prove to be great additions to homes already outfitted with the latest and greatest home security.


Simple Starter Options
Sometimes the best tech is also the cheapest and most straightforward—tools that can serve as a starting point for your home security or further enhance an already robust system. For example, if you simply want to monitor access points in or around your home, the
Wyze Sense
, when paired with the
Wyze Cam
or
Wyze Cam Pan
, is the perfect solution at less than $50 per setup.
If you want to start even smaller with a video doorbell or smart lock, you have tons of options from low-end and inexpensive to pricier security tech. For video doorbells, it's hard to go wrong with
Ring
or the
Nest Hello
(as noted above) but the
Arlo Video Doorbell
is a great alternative to those bigger names. For locks, the
August Smart Lock
is one of the best all-around devices while
Yale
and
Schlage
offer great alternatives (
Wyze
has an excellent low-cost option, too).
Alexa Guard
If you already have an Alexa-enabled
Echo Dot
, then you have access to its
Alexa Guard
feature. Just alert the Echo Dot whenever you leave your house—"Alexa, I'm leaving"—and the device will send you alerts on your smartphone if it hears alarms, broken glass, or unwanted visitors in your home. It even takes into account if you have pets. If you don't have an Echo Dot, you can get one for less than $50.
Automated Window Coverings
Motorized blinds are not exactly a new idea—many upscale homes have window coverings that can be opened or closed via a wall switch or control panel. What is new is controlling shades and blinds and drapery via an app or by setting a predetermined schedule. Companies such as
Lutron
excel at whole-home solutions to let you set your optimal level of privacy—both inexpensive battery-powered options or fully integrated into your home's network.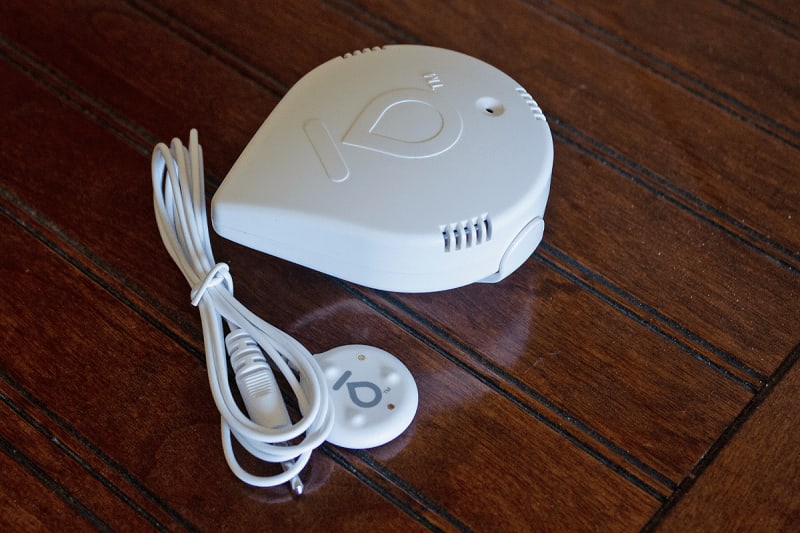 Credit: Tech Hive
Leak Monitoring
Home security isn't just about keeping out unwanted intruders or monitoring movement or conditions outside your home while you're away. It also means protecting your property from damage or your family from life-threatening conditions. Such is the case for our next three security devices, two of which monitor water in and around your home while the third keeps tabs on what's in the air.
First up is leak detection. Devices such as the
Phyn Smart Water Assistant
and
Flo by Moen Smart Water Detector
alert you when a pipe is leaking or has the potential to freeze. They both include monitoring to help you keep tabs on your water usage. In the case of the Moen device, it even has humidity alerts to let you know if a potential for mold growth is present. Pricier versions such as the
Phyn Plus Smart Water Assistant
enables you to shut off your water—remotely—to avoid catastrophic water damage.
Pool Sensors
The water inside your house isn't your only concern, especially for those lucky enough to have a pool in their backyard. For keeping tabs on your watery retreat, there's the
cFloat Pool and Home monitoring system
. A smartly designed orb that floats across your pool like a buoy, the cFloat system tracks your pool's chemical levels and surrounding UV radiation and has a sensor that alerts you to movement in the water—and does it all remotely, 24/7. The cFloat system even has an indoor Gateway base station that measures indoor air quality.
Smart Smoke and Carbon Monoxide Detectors
Speaking of air quality, the last of our three comfort and security gadgets might prove to be the most critical devices in your home—smoke and carbon monoxide detectors. The best all-in-one tech can be found in Google's
Nest Protect
and the
FirstAlert Onelink
. Both of these high-end devices work via app to alert you to changing conditions in your home and feature voice alarms and a 10-year battery life.
Intelligent Lighting
Of all of the security systems and smart devices on our list, arguably one of the most effective ways to keep your home secure is also one of the most straightforward—lighting. Not just any lighting, though, but smart lighting. Industry leader
Philips Hue
offers solutions where you can time the turning on of your home's exterior lights to your arrival, use motion sensors to flip on lights at the smallest movement, or sync lights to turn on and off throughout the day and night to make it appear like you're home, even when you're not.
Are you considering making the Hamptons your home away from home? Or maybe even your permanent address? Contact Matthew Breitenbach and
The Breitenbach Advisory Team
today. From Hampton Bays to Sag Harbor real estate to houses for sale in Montauk, we're dedicated to helping you find your perfect piece of Hamptons luxury real estate.