Despite what your grandma told you, what's on the outside counts too—especially when it comes to selling your home
When selling your home, a lot of small touches and attention to detail can make a huge difference in the final sale. Fresh, neutral paint. Additional lighting. Cleaning and decluttering. Aesthetic upgrades such as new hardware or fixtures. Even in multi-million dollar homes, these minor improvements make a difference.
One of the most essential elements is staging. Whether a few rooms or the whole house, staging gives a home an updated, wow-worthy look.
You can transform living rooms into welcoming gathering spaces. Give a dining space the gravitas to host an elegant affair. Master suites become spa-worthy escapes.
Staging also helps prospective buyers see the home as their own, instead of as one belonging to somebody else. Although staging doesn't necessarily increase a home's value, it can help ensure a more rapid sale at the price point you're hoping to achieve.
But what about the exterior of the home? Specifically, the backyard. Should it receive the same staging treatment as the home's interior?
In a word, yes.
Any home with a backyard or other, livable outdoor space benefits from staging. For one thing, it expands the usable square footage of the house. For another, it enhances its overall curb appeal. Staging may prove to be the difference in garnering a sale in a highly competitive market.
So, how does one go about staging their backyard—or side yard, front yard, or any other vital piece of outdoor real estate? Let's explore the prep required and several different approaches you can take while staging your home's exterior—whether it's a large backyard, a small outdoor area, or something unique.
Declutter and Depersonalize
Just as you'd tidy up the interior of your home for an impending market launch, every outdoor space on your property should receive the same treatment. Toys, tools, and random odds and ends should all be removed and stored out of sight.
The decluttering process should extend to "natural" elements as well. Random piles of wood or leaves, mounds of dirt or sod, or items such as extra bricks or paving stones should all be neatly organized (properly stack firewood in a rural setting, for example), razed, or stowed away. Depending on your yard's size and the excess of items that require removal, it may be worth installing a shed if you don't already have one.
Considering you're preparing a multi-million dollar home for sale, a small, tasteful wood or vinyl shed can be purchased and installed for between $500 and $1,000. Not only will it be a huge benefit for quickly cleaning up your yard, but it will also help keep your garage free of clutter while adding extra storage space to the property—a plus for potential buyers.
As well, any personal decorations or yard displays should be removed. Just as you'd do inside, you want the house's exterior to be attractive to the broadest client base possible. Whimsical outdoor displays may not be as appealing to potential buyers as they are to you.
Make Repairs and Clean Up Physical Structures
Before addressing the yard itself, it's ideal to repair any structures—fences, pergolas, patios, pool areas, flower beds, or permanent outdoor kitchen or grill areas and landscaping spaces (such as a fire pit). Yes, even significant permanent structures such as swing sets should be clean and free of disrepair.
Once repairs are resolved, it's also a great idea to take a power washer to many of these same areas. Using your power washer is like giving a fresh coat of paint to your outdoor spaces since removing dirt and grime will do wonders to make these areas feel new again.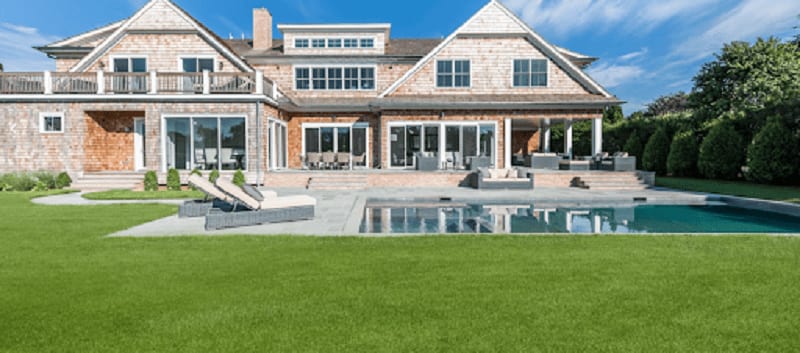 Trim, Landscape, and Maintain Your Yard
Once physical obstructions are removed and permanent structures are repaired and cleaned, it's time to focus on your yard's natural areas. Trim trees and bushes and weed all landscaped areas, including flower beds, around fences and trees, and along patio or deck areas.
At this stage, it's also an excellent idea to take stock of any barren areas and fill them with mulch, sod, or colorful plants and vegetation to give these natural areas a fresh look and feel. Apply the same approach to both your front and back yards and other outdoor spaces that could benefit from a new pop of color.
The critical aspect of this step is that, upon completing the initial trimming and weeding and after sprucing up the landscape, you will want to maintain the yard throughout the marketing and sales process. Whether it's you or a landscaping service, you should schedule regular maintenance to make sure your yard is ready for any potential showings.
Stage Your Spaces
Now that you've decluttered, cleaned, and prepped, your backyard is ready to be officially staged. When it comes to staging outdoor areas, there are no specific edicts or guidelines to follow. However, a good rule of thumb is to take a similar approach as you would while staging your home's interior.
If you have a large outdoor patio space, create separate zones to show off the area's functionality. Cooking and dining areas and conversation zones are the three main sections to focus on if your patio can accommodate such a layout. For a smaller patio, showing off its versatility is key, so you should set it up as a dual-purpose space that can handle an evening with friends or a family meal. In either case, stage the area as cozy but comfortable to move around in.
Aside from the layout, ensure that your outdoor furnishings are clean, free of damage, and show off the space as warm and inviting. You don't want potential buyers looking at moldy seat cushions or splintered wicker or wood furniture. If necessary, you or your realtor should coordinate with a stager to capitalize on your patio's best features.
Similarly, if your backyard accommodates multiple zones of activity or relaxation, take advantage of the space and stage those as well. Benches and a fire pit in a quiet, well-landscaped corner of the yard or a hammock strung between two trees (or a stand-alone version in a high-shade area) will show off a place of peace and solitude.
Conversely, don't overstuff your yard or feel the need to stage every possible area. If you have a large, vast open space, leave it that way. Potential buyers with children will appreciate the extra room for their kids to roam.
One side note is that if your backyard has a large structure such as a swing set, a pergola, or a gazebo, it may be impractical to move or relocate it. In such cases, the structure can help show off the size and usable space of your outdoor area—make sure they all get the same cleanup treatment as everything else.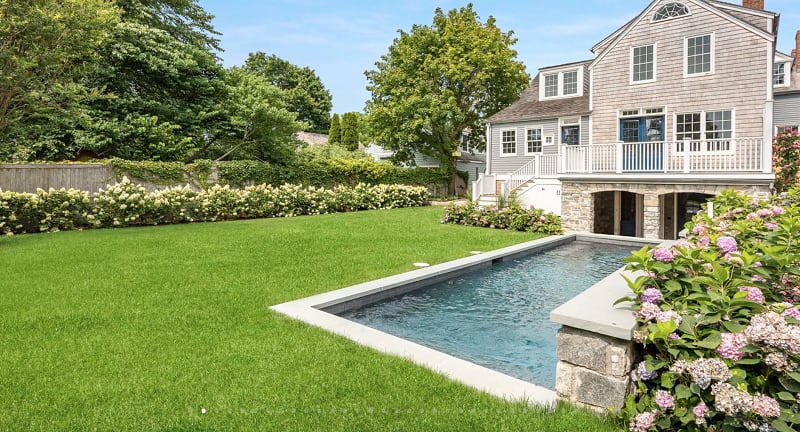 Additional Outdoor Areas
While we've focused mainly on your backyard and rear patio areas, don't neglect the staging of your other outdoor spaces, too. Front porches and second-level balconies can all benefit from thorough cleaning, a small staged seating area, and some nice potted plants or flowers. Not only will this provide overlooked areas with flashes of personality, but it will also give your home a welcoming sense of continuity as potential buyers tour the space.
As well, if your yard has prominent water features—a pool, a pond, or otherwise—stage these spots, too. You must stay on top of your pool maintenance at all times, but especially during your home's marketing stage. One of the worst things for a potential buyer to see is a green, grimy pool.
For ponds or other natural water features, the concern is less about the water and more about the space around it. You'll want to spruce up the surrounding vegetation and make repairs to any docks or other waterside structures to ensure would-be buyers see the area as an added benefit to purchasing the home versus a hindrance. Again, don't discount the staging of a small seating area or fire pit here as well!
Ultimately, it's essential to realize that your home's outdoor spaces are just as crucial to its appeal as its interior. Buyers want a residence that they feel comfortable with—both inside and out. Highlighting small details such as a nice yard and outdoor spots for relaxation, cooking, or entertaining stand out against other homes that lack such areas (or don't keep them well-maintained). While it doesn't require the same level of attention as rooms under the roof, a well-kept, smartly staged backyard will appeal to a wide range of buyers.
Are you considering testing the market to see what your Hamptons home is worth? Or maybe it's time to upgrade from one Long Island address to another. Contact Matthew Breitenbach and
The Breitenbach Advisory Team
today. From Hampton Bays real estate to houses for sale in Montauk, we're dedicated to helping you buy or sell a piece of Hamptons luxury real estate.