With the weather cooling down and fall upon us, now is the perfect time to escape to the Hamptons for a weekend of relaxation
Known for being a highly sought-after weekend escape, the Hamptons offers only the finest things in life. From white sand pristine beaches to breathtaking mansions to fine dining, the Hamptons is an experience you don't want to miss. No matter what you enjoy doing, the Hamptons has something for you. We've pulled together some of the best ways to relax here.
Catch the Waves at Pikes Beach
If you're a surfer, then you're sure to love this local spot. Located on the Westhampton Dunes,
Pikes Beach
is well-loved by both residents and visitors alike. Known for being a quiet and clean beach, it's not hard to understand why it's so popular. This 400 feet of sandy beach is the perfect place to surf, fish, or take a nap in the sunshine. If you enjoy being by the water, then you won't be disappointed with Pikes Beach.
Explore the Village of Southampton
With seven miles of pristine beaches, a historic downtown, and charming B&Bs,
Southampton Village
is the perfect place to spend the weekend. Located in Suffolk County, Southampton has a little something for everyone. While here, you won't want to miss exploring downtown—lined with boutiques, restaurants, and other shops, you can enjoy lunch at a local diner, go window shopping, or wander through museums. Whether you're here for a day trip or a weekend or more, Southampton guarantees a relaxing and rejuvenating time.
Enjoy Breakfast at Rosie's
If you're a local, then you're most likely well-acquainted with
Rosie's
. If you're a visitor or considering moving to the area, then you're in for a treat. Located in Amagansett, Rosie's is all about putting a fresh and creative spin on casual dining in East Hampton. Passionate about using the freshest and finest ingredients, Rosie's highlights farm-forward dishes. Craving a smoothie or fresh juice in the morning? Hungry for smoked roasted chicken or quinoa and greens for dinner? You can get all that and more here! Even better—happy hour takes place daily from 3 to 5 PM, where you can enjoy assorted appetizers and drinks. Between their high-quality meals, unbeatable prices, and stellar customer service, Rosie's will feel like home in no time.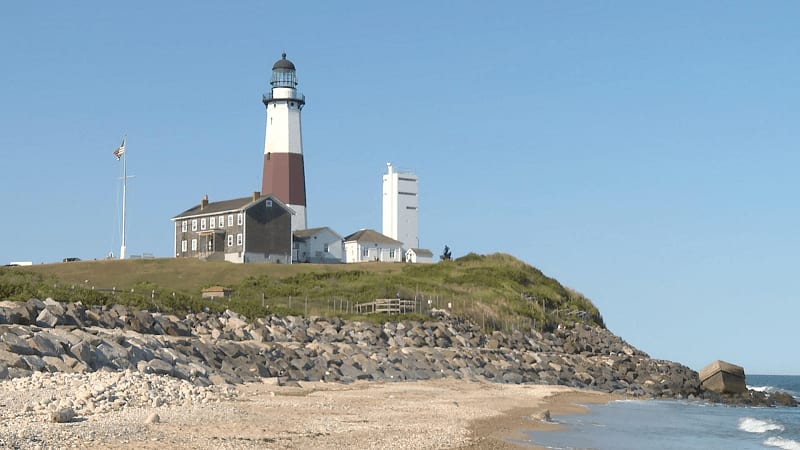 Credit: PBS
Climb the Steps at Montauk Point Lighthouse
The East Coast is undeniably famous for its picturesque lighthouses, which you can experience up close and personal at
Montauk Point Lighthouse
. Constructed in 1796, this lighthouse is the oldest in New York State. It comes with a long and fascinating history, which includes being authorized by the Second Congress under George Washington in 1792. To this day, it still serves as an aid for navigation. Here, you can experience magnificent 360-degree views of Block Island South, the Atlantic Ocean, and beyond. After taking in these inspiring views, grab a token at the gift shop or learn more about the history of the lighthouse at the museum. A popular attraction, you'll want to guarantee your visit by reserving tickets in advance.
Go Shopping at Ulla Johnson
With fall here, it's time to update your wardrobe. Whether you prefer window shopping or shopping until you drop, there's nowhere better to do that than at
Ulla Johnson
. Located in Amagansett, this 2019 addition is the second brick-and-mortar shop of designer Ulla Johnson. This women's fashion boutique emphasizes custom prints, detailed embroideries, and sophisticated tailoring.
Relax at Shou Sugi Ban House
One thing's for certain:
Shou Sugi Ban House
is no ordinary spa experience. This thirteen-room destination spa and retreat is the epitome of rest and relaxation. Here, you can experience holistic living, nutrition, education, fitness, meditation, advanced skincare, rejuvenating massages, and more—all inspired by the Japanese principles of wabi-sabi and being open to accepting your imperfections. As the only comprehensive wellness program in the Hamptons, this spa and retreat aims to please.
Spend the Night at Sunset Beach Hotel
Watching the sunset with your sweetheart couldn't be more romantic—especially when you're at Sunset Beach. Planted right by Sunset Beach,
Sunset Beach Hotel
has been providing luxury lodging to Shelter Island since 1997. With only twenty guest rooms available, this charming Long Island hotel is the perfect escape for a romantic getaway. In addition to ocean views from every window, you can enjoy luxury accommodations and upscale dining. The hotel is also pet-friendly, so don't worry—you can also bring your furry little friends along for the weekend!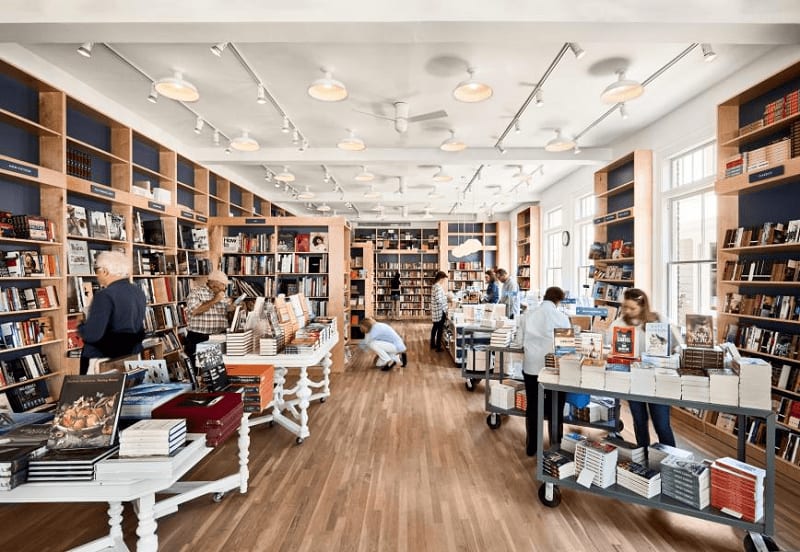 Credit: BookHampton
Grab a Book at BookHampton
Nestled in the village of East Hampton on Long Island's East End,
BookHampton
is a bookworm's heaven. This store has a light and airy atmosphere and sells both new and used books. A part of the community for more than 40 years, BookHampton has a wide inventory of books from all different genres. Don't worry if you can't find what you're looking for—their knowledgeable and helpful staff will be sure to help you find what you need. If you're lucky, you might even get to experience a live event with a variety of fascinating and talented authors. Whether you're a visitor passing through or a local who is lucky enough to call the Hamptons home, this place is sure to awe all the book lovers in your life.
Indulge with Pastries From Carissa's Bakery
When you walk through the door at
Carissa's Bakery
, you'll instantly be hit with the smell of delectable baked goods. Since their beginning days of only selling bread, Carissa's has only expanded. Now, you can find bread, pastries, pies, sandwiches, and fresh juices—all made fresh daily. You can also pick up simple and healthy breakfast and lunch items—perfect for a picnic on the beach or a candlelit dinner. With so much available, it's no surprise that this hip bakery is one of the hottest places in the Hamptons.
Start Your Morning with Coffee From Golden Pear
Even if you're on vacation, chances are you'll most likely be craving your daily dose of caffeine. Thankfully, you can find it at
Golden Pear
. First established in 1987, Golden Pear is located in all four Hamptons Villages. Their quaint and laid-back atmosphere—not to mention a delicious cup of coffee—are just a couple of reasons why this coffee spot is so bustling. Whether you're craving a latte or a quick bite to eat, you can experience it all here.
Marvel at the Parrish Art Museum
Located in Water Mill, the
Parrish Art Museum
is the place to go if you enjoy art. Here, you will find 15 unique exhibitions each year, a world-class collection of more than 3,000 works, special exhibitions, and group exhibitions highlighting fascinating themes. In addition to their vast collection of art, the Parrish also produces over 100 public programs every year, including film, music, and talks. With so much to see and do, you'll never be bored here.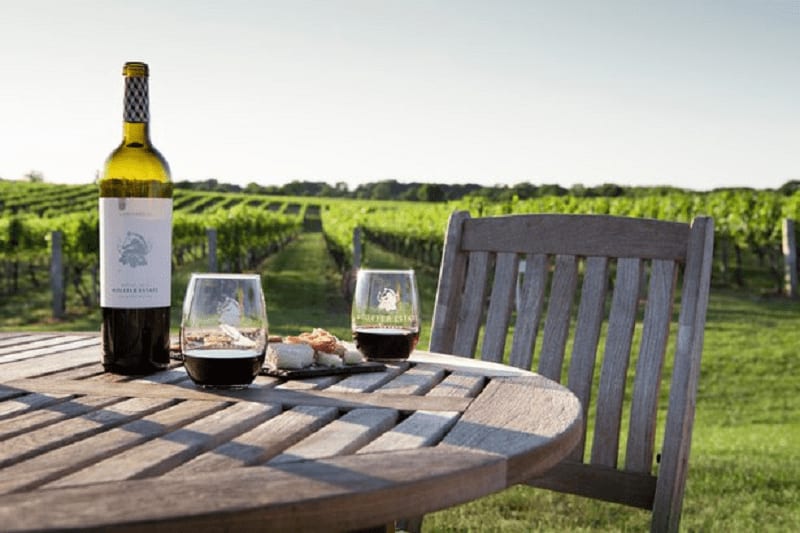 Credit: Wolffer Estate
Spend the Day at Wolffer Estate Vineyard
It's hard to think of a more relaxing experience than enjoying a glass of wine—except, perhaps, enjoying that said glass of wine at a vineyard? As the only vineyard on the East End,
Wolffer Estate Vineyard
is both family-owned and sustainably-farmed. They are committed to producing the finest wine and giving you an unforgettable experience. Their tasting room has an airy and light atmosphere, allowing you to overlook the luscious vineyards while enjoying live music.
Experience the Wonder of Guild Hall
Guild Hall
in East Hampton was one of the country's first multidisciplinary cultural institutions. Since first opening its doors in 1931, Guild Hall comprises a visual art museum with three galleries as well as the John Drew Theater. This historic center serves as a community hub for arts, education, and entertainment. The museum hosts eight to ten exhibitions yearly, varying from historical to contemporary art. The theater produces more than 100 programs, from classics to new works. It's no surprise that the Guild Hall attracts more than 60,000 visitors each year.
Try Your Hand at Southampton & Hunt Polo Club
Since being founded in 1989,
Southampton & Hunt Polo Club
quickly became one of the largest polo clubs in the country. Between leagues, tournaments, and social affairs, there's always a plethora of events and activities to participate in. Facilities here consist of three full fields, two stick and ball areas, an outdoor arena, and an exercise track. Regardless of whether you're a beginner or seasoned veteran, there's something for you here.
If you're looking to explore Hampton Bays real estate,
contact Matthew Breitenbach
. As one of the most sought-after real estate agents in the area, Matthew serves a wide range of communities. His expertise and dedication to client satisfaction will guide you through the homebuying process.
*Header Credit: Wolffer Estate