The Hamptons are a series of beach towns on the South Fork of Long Island, New York. A celebrity hangout, the beaches offer a relaxing getaway from the hustle and bustle of the city, and you can expect top-notch quality from businesses all over Long Island.

The area's historical roots are grounded in agriculture and the arts, with multiple vineyards, farms, and art museums scattered throughout. Artisans of all kinds have long been drawn to Long Island, so it's no wonder high-quality craftsmanship is found here. Long Island is home to several breweries that showcase the best craftsmanship the area has to offer -- in beer form, of course. The breweries on this list have embraced what the land and its history have provided them, making their mark on this area.


1. Jamesport Farm Brewery
This 43-acre farm in North Fork wine country began as a potato farm, like many of the other farms in the area, including the largest remaining potato farm on Long Island, John Kujawski & Sons. Did you know that the hop plant prefers the same type of soil as potatoes? Jamesport claims this fact has been beneficial for creating their distinctive beers. Every one of their beer recipes uses hops, barley, and wheat is grown onsite. This is how they've cultivated their specialty farm-to-pint experience.

Owners Anthony and Melissa Caggiano brought 50 plus years of nursery-growing experience and a love for artisan beer to create their brewery. They have studied horticultural science and have learned what it takes for their plants to thrive in the environment. Additionally, they are dedicated to advocating for a greener future, as demonstrated by their modern, sustainable farm and the Plant Connection, a wholesale nursery specializing in growing various forms of living architecture space.

Visit their pet-friendly tasting room to sample one of the rotating beers on tap, such as the Wicked Little Sister, Hay Baler, and Prancing Pony. If a private event is on your radar, their tasting room, the 4-acre Hop Yard, or one of their open-air hop "rooms" are available to rent five days a week from April through March and three days a week in the winter. Or attend their autumn public event, the Long Island Fresh Hop Festival.
2. Long Ireland Beer Company
In 2009, owners Dan Burke and Greg Martin quit their day jobs and began to make beer for a living. They made their first batch of beer together in 2003 and have been working toward fulfilling their dream ever since. They recently celebrated the milestone of brewing and canning their one-millionth beer!

The Long Ireland Beer Company tasting room is open seven days a week. Their beer garden is also open daily and is available to rent for private parties. The company is dog-friendly. There are weekly theme nights in the tasting room, and additional parties hosted throughout the year. In addition to sampling their wares at their tasting room, you can try their Irish-themed beers at tap takeovers, tastings, and other fun events held at various bars and restaurants.
3. Greenport Harbor Brewing Company
Owners John Liegey and Rich Vanderburgh have known each other since college, and the idea of owning their own brewery remained at the back of their minds. The old firehouse in Greenport Village was in poor condition, but it allowed the two to finally launch their dream. They renovated the building, and in 2009, opened the brewery. Understanding from the beginning that beer is a vessel for making connections and a means of supporting their community, Greenport Harbor Brewing established "The Giving Tank," where they are prepared to pour a pint in support of their area with the goal of making it a better place. They've worked with several charity organizations, such as the Wounded Warrior Project, the Surfrider Foundation, and the North Fork Art Collective.

Visit this brewing company at one of their two locations: a tasting room and restaurant with a farm-to-table atmosphere in Peconic, or their original brewery and tasting room in Greenport. Both serve all of their limited edition and seasonal releases: Second Round Knockout IPA, Lucha Lager, and Chocolate Covered Cherry Pie stout. Their year-round releases include favorites such as Haus Pils, Harbor Ale, and Black Duck Porter.
(Image Credit: Greenport Harbor Brewing Company)
4. Peconic County Brewing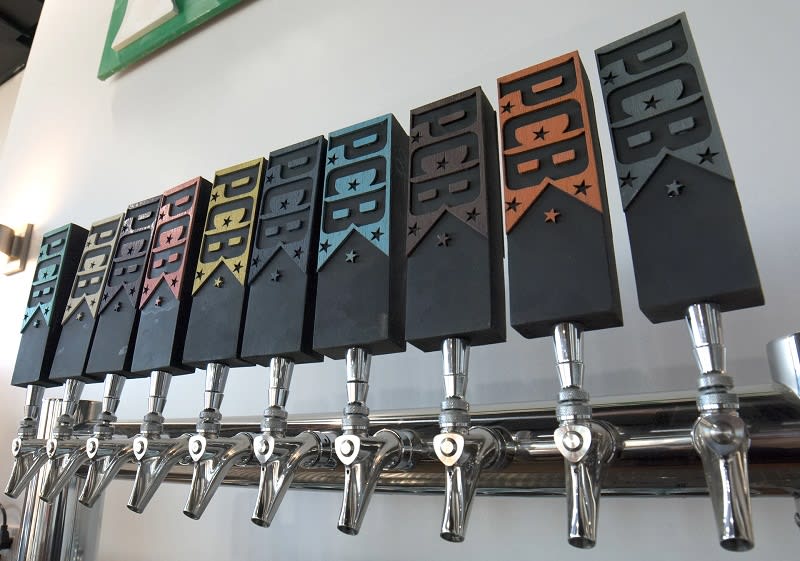 Credit: Peconic County Brewing
This brewery is relatively new, opening in 2021, but that doesn't make it any less of a contender. The company brews beer on location, boasts a full kitchen, and provides a beautiful view of the Peconic River for guests to enjoy. Peconic County Brewing owner Jeff Schaeffer plans to keep a year-round menu of 30 beers, with 10 of those beers on tap. Though still young, the company has already made it a point to become a part of the community. Schaeffer regularly posts on the company's Instagram page with "Help me name a beer" contests, early renderings of drawings for can artwork, and posts that invite the community to share their thoughts and opinions to help shape how the company moves forward.

Their tasting room is open every day from noon until 10 p.m., so come by and order their popular flagship recipe, the Dream Girl IPA, their only beer without a Long Island-themed name.
5. Blue Point Brewing Company
The Blue Point Brewing Company began in 1998 in Patchogue. Like a couple of the other breweries on this list, it started with two friends and a flagship beer. In this case, that beer is their Toasted Lager, a two-time gold medal winner of the World Beer Cup. They've stayed true to their roots in Long Island with some of their beer recipes that feature local oyster shells, beach plums, and seaweed. Not your kind of brew? Try one of their Long Island Iced Tea hard seltzers or canned cocktails for a different kind of buzz!

Their brewpub is open Tuesday through Sunday, but thanks to a partnership with Anheuser-Busch, you don't have to be a Long Island local or a native New Yorker to drink any of Blue Point's craft beers.
6. North Fork Brewing Company

Co-owners Peter Barraud and Ian Van Bourgondien have been operating North Fork Brewing Company in Riverhead since 2018. They grow and utilize 60% of their own hops, including the Nugget, Chinook, Perle, Liberty, Cascade, and Magnum varieties. But the farm doesn't just stop at the hops. Peter and Ian keep seasonal produce in mind as they brew their beers, sourcing unique local, regional crops, yeast, and ingredients.

Drop in to their brewery and tasting room from Wednesday through Sunday and taste one of the nine beers currently on tap. Enjoy the Pierce the Ale IPA, Face Palm porter, or Lawn lager in a glass. For those who opt for a can, there's the Free Time Lime hard seltzer or the Hold Me Closer Tommy Lager pilsner. Craving a bite to eat while you sip? Sample the occasional food truck fare on location, or feel free to ask your beertender about the local eats. They're known to host trivia nights in the spring and fall, with the most recent being fundraisers for LGBTQ+ suicide prevention. Well-behaved children and pets are welcome.
(Image Credit: North Fork Brewing Company)
7. übergeek Brewing Company
This brewery chooses an unconventional approach to ingredients and techniques. Owner Rob Raffa spent several years as head brewer at the former Moustache Brewing location before testing his brews at nearby North Fork Brewing. Their debut collaboration brew, First Step, First Leap, a "Berliner Weisse with flavors of tart strawberry and vanilla," was crafted to celebrate the 50th anniversary of the first moon landing.

As of February 2021, the übergeek tasting room in Riverhead is officially open Wednesday through Sunday. Sample the dark tart ale Dealing with Dissonance to taste the unique flavor of tamarind, lime, and ginger, or the fruit tart ale Please Stop Panicking over Perfection with its notes of black currant and pomegranate.

This brewery is also children and dog-friendly! Fun Fact: All of ubergeek's beers are 100% vegan and do not contain animal products, like lactose and honey. Not a beer fan but still want to support local? Check out one of their wines, ciders, seltzers, and nonalcoholic beverages. For diehard fans, they even offer a membership titled The Cohort of Eccentric Misfits, which has three tiers and multiple levels to allow the customer to be as much of a part of the brewery's community as they'd like.

One of the best things about traveling around the Hamptons and Long Island is the fact that there's so much to taste within a short distance. Living in a piece of the Hamptons luxury real estate provides access to a multitude of craft offerings. Contact us if you are interested in checking out Sag Harbor, Bridgehampton, or Montauk real estate for sale and making your Hamptons dream a reality today.