Think the latest in home tech is reserved solely for your house? Then it's time you considered the top new technologies for your pool.
Smart technology is taking over our homes—from AI assistants to intelligent appliances to voice-activated, well, everything. Luxury homes are bursting with cutting edge tech to make our lives easier and more comfortable.
But the residential tech revolution doesn't stop at the windows, walls, or doors of our home. There's plenty of technology worth exploring for the exterior of the house—more specifically, your backyard pool.
Now, you might not find Alexa-enabled capabilities or an array of devices to connect to your automated home network. But pool tech has come a long way, and there's plenty of smart hook-ups and robotic enhancements to satisfy even the most die-hard tech-head. Let's take a deep dive into what's new and next-generation and discover seven new ways to bring home tech to your Hamptons pool.

Credit: Pool Warehouse
Water Monitoring
One of the most arduous and necessary tasks of pool ownership is maintaining your pool's chemical levels. Get the measurements right, and your swimming experience will be consistently enjoyable. Get them wrong, and it'll turn uncomfortable and potentially harmful. Thanks to new technologies, gone are the days of pool chemical management as an art form, where you, the homeowner, were tasked with manual measuring, guesstimations, and potentially unsafe chemical trial and error.
The
cFloat
monitoring orb drifts along your pool's surface like a buoy taking measurements. It can monitor water temperature, pH and chemical levels, and surrounding UV radiation, all controlled via a smartphone app.
The
pHin Smart Water Monitor
incorporates analytics to measure your pool's chemical levels. While floating in the pool, the pHin takes over 1,000 measurements per week and reports them back to your smartphone or another connected device. It even provides alerts for when your water is out of balance, requires treatment, and includes a chemical database that keys in on the exact chemical brands you use.
If your goal is to fully automate your pool management,
Pentair
offers several systems to help get you there. Their pool automation solutions feature a fully integrated ecosystem. You control pool pumps, heating, sanitizing, water chemistry, even your lighting and additional water features from a centralized touchscreen interface, smartphone, or another mobile device.
Safety Monitoring
The joy of owning a backyard pool is often weighed against the risk it can pose, particularly for families with small children. While it creates years of enjoyment and many fond memories, there is always the looming prospect of an unattended child falling into harm's way. One way technology helps to assuage these fears is through pool monitoring devices that notify owners when someone or something enters either the pool or surrounding area.
Top monitoring devices include the Bluetooth controlled
Lifebouy Pool Alarm System
, which detects if a person or pet is in your pool. It can also alert you if the pool cover has been removed. The
Poolguard PGRM-2 In-Ground Pool Alarm
is a discreetly installed gadget that attaches to the edge of your pool. It offers a remote receiver and an 85-decibel alarm that can be heard from up to 200 feet away. The aforementioned
cFloat
monitoring buoy also includes a motion sensor.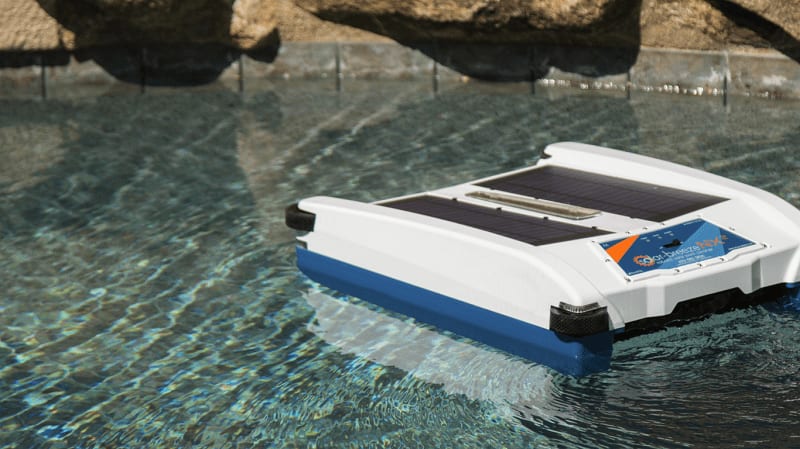 Credit: Solar Breeze
Pool Cleaning
To complete the trifecta of home pool maintenance and monitoring, there's the task of keeping your pool clean. There's no doubt that the stereotypical image of a homeowner standing beside their backyard oasis, skimmer in hand, is the dread that deters many from wanting a pool of their own. However, spending more time caring for your pool versus actually using it is quickly becoming a thing of the past. Instead, you should let the robots handle it.
The
Solar-Breeze NX2
is a solar-powered robotic skimmer that automates the tasks of keeping the surface of your pool debris free without excess energy costs. As the manufacturer states, it's effectively a Roomba for your pool and includes intelligent navigation. The app-controlled
Dolphin M600 Robotic Pool Cleaner
is the latest in Dolphin's well-known line of automated pool cleaners. In addition to its powerful cleaning capabilities, which scrubs your pool's floor, walls, and waterline, you can control the M600 remotely or set up automated cleaning programs.
Pool Covers
While not necessarily a requirement, a pool cover is a fantastic addition to your pool setup. Covers serve multiple purposes. They help reduce water evaporation, keep debris out of your pool, lower heating costs, and diminish potential drowning risks. In other words, the right pool cover can save you time and money and provide you with peace of mind.
For most, a manual pool cover might seem the easiest route. However, stretching a cover taut over your pool's surface can be a laborious and time-consuming task. Instead, opt for the automatic version from vendors such as
Cover Pools
or
Automatic Pool Covers
.
If you're a pool owner that subscribes to the "go big or go home" mantra, then you'll want to consider a
sliding deck pool cover
. Yes, a sliding deck. It serves many of the same purposes as a standard cover but expands your useable backyard space both when the pool is in use and when it's not.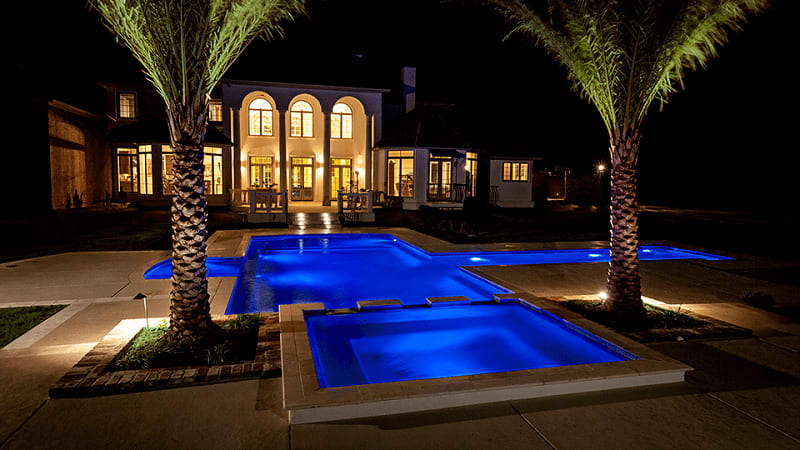 Credit: Heyward Pool
LED Lighting
A lot of the latest home and outdoor technology isn't just about automation or smart device control. Many recent advancements are simply updates on things we often take for granted, such as pool lighting. Although evening swims might not be at the top of your list of reasons to own a pool, a pool can provide you a dramatic backyard setting. First and foremost, a safety feature, a well-lit pool adds to the ambiance of any occasion. From hosting a seasonal party to an intimate wedding or reception to merely hanging out with family and friends, you wow attendees by lighting up the pool.
LED lighting offers the most flexibility—and color options—and you have an array of choices when deciding how to light your pool. Heyward provides a
full line of LED light options
, many of which you can retrofit with almost any inground pool or spa. Not keen on replacing your in-pool lights? No problem. Brands such as Lumens have
waterproof LED options
that float atop the surface of the water.
Pool As Home Gym
Technology fuels innovation. Sometimes that innovation can take commonly held notions and turn them upside down. Take, for example, using your pool for something other than outdoor recreation. Many pool owners appreciate their pool for its fitness factor. And though laps are a tried and true method for staying in shape, not every pool is designed to accommodate a back-and-forth workout.
Companies like
Endless Pools
aim to change that. The company is most widely known for its small, self-contained "lap" pools. Slightly larger than a jacuzzi, water resistance is artificially generated, allowing users to swim as long as they want while remaining in place. You can even add the technology
to traditional pools
. Pair it with an aqua bike, underwater treadmill, or install an underwater mirror to improve your form.
And we must not forget that should you have an outdoor pool, it is worth adding a
pool heater
to ensure your water-based workout (and general enjoyment of your pool) occurs year-round.
Credit: WOW World of Watersports
Poolside Tech
Just as crucial as the upgrades you make inside your pool are those that occur beyond the water. After all, a Hamptons pool isn't complete without accessories that enhance you and your guests' enjoyment of your watery oasis.
Of course, playing your favorite tunes poolside may very well be the most vital add-on.
Bose
,
Klipsch
, and
Sonos
all offer outstanding outdoor and landscape speaker options. If you require your music in the water with you, the Bluetooth capable
WOW-Sound Speaker
and companion float will liven any pool scene.
Ryobi
features a similar floating Bluetooth speaker that comes complete with LED lighting.
Pools have certainly come a long way from their early heyday some 40 years ago. And though they stood as one of the last spaces to adapt to the growing trend of home automation, their moment has finally arrived.
Whether you're taking small steps, retrofitting, or going all-in with a new ground-up build, including all the latest tech, find a contractor you trust. They'll help you find the right products to fit your needs and ensure your high-tech pool is one you and your family will enjoy for many years to come.
Are you considering making the Hamptons your home away from home? Or maybe even your permanent address?
Reach out
. We're dedicated to helping you find your perfect piece of Hamptons luxury real estate.